Teaser Premiere Update + New Application Form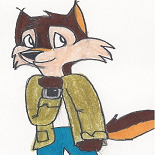 Entry posted by WayCool64 ·
913 views
Hey there guys, just wanted to give you some updates related to the Dinosaur Planet fanseries.
First and foremost, the teaser trailer is planned to premiere this Saturday (August 20th) at around 10am PST on Twitch. You can catch it through this link: www.twitch.tv/waycool64
Second, there seems to have been a problem with the team volunteer application forms. So I fixed the problem and provided a new link to it: goo.gl/forms/eMuBU7hRkEkUDGB42
See you guys this Saturday!