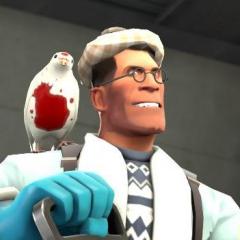 Entry posted by Hidi ·
1,230,618 views
It's been one year since I created the original blog thread on SF-O. Should I be reflective on this moment? Probably not. But, I guess I can put myself in review.
Since last year, I'm still playing competitive TF2 in UGC. What has happened since then?
In UGC Season 12 (January - April 2014) I was leader for TAGC in Steel. A team that I later destroyed for various reasons.
UGC Season 13 (Summer season) Finding a team was difficult, and I ended up on Team Celebrity. I was interim leader with the team from the end of Season 13 through the off-season.
During the same season, Icy led Area 6 Veterans; a team with SF-O members at its core.
UGC Season 14 was the first season I chose not to commit to a starting spot. This was because of how busy I am, and how much of a break I needed from the previous two seasons.
Three weeks ago in mid-October, I went to the GXL LAN and played TF2 and shook hands with many big-name and very good players.
I started playing TF2 with SF-O, and eventually that somehow led me to get into competitive.
There is not much else I want to add currently. But until this gets deleted, I will introduce you to the archive of the original "blog" Link