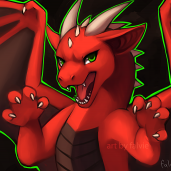 Entry posted by Arminius H O Fiddywinks ·
1,717,678 views
So, in my high school, we are in the last marking period (a part of the year between two dates in which students' grades are sent home and set in stone), and so far I am failing two classes. I have four more full weeks before grades are sent home one last time. That is the amount of time I have to shape myself up or else completely fail my sophomore year. But... I don't know if I can do it.
And let's not forget my family! Oh, no, not at all. Not one person in the family has ever flunked any class at all. They are all in college or have finished college, have successful jobs or practical careers, and they all have their eyes on me. Me, who wants to become an artist and musician. Me, who does not know how to play any instrument at all. Me, who has never taken formal art classes. Me, whose dreams and expectations are so high, yet whose work so far is so low. They all say that I'm not being practical, that I need to be something else. Well, I don't know what else to be. Nothing else interests me other than music and drawing. I'm even starting to be more indifferent towards history, a subject that I used to love.
So, I have no clue what's going to happen even in the near future. And in the long run... Hmm.