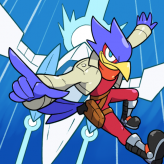 ---
Similar Content

By Storminator

Not sure if this should go in classic or general, please move if needs be.
You might think a thread like this is a bit pointless considering we already have a straight remake on the 3DS and Zero which is basically a remake of 64, but hear me out! Starfox 64 might arguably be the best in the series, but that doesn't mean its immune to critisism, so I've been thinking of what could be done to improve the game if it were to be remade today.
First off, the story. In my opinion the story serves its purpose well, but it is very bare bones. My ideal remake would flesh out the story and characters more, add more context specific dialogue, etc. and adding additional cutscenes in between missions.
Level design- The level design in 64 can at times be boring, especially the All-Range missions. Lets take Sector Z for example, its meant to be a hazardous area with magnetic fluxuations and debris. So what if for that mission, your radar is hampered or disabled? Or perhaps in a series first you start in All-range mode then enter an on-rails segment, maybe the Great Fox's engines keep malfunctioning (Giving an good reason why tis just sitting there while missiles are targeting it). This is just one example of how the levels could be made more distinct and fun.
Extras and unlockables- Lets face it, the game just simply needs more unlockables and bonuses. One thing I thought of was the dishes in the Corneria stage- You can destroy them, but it does nothing for your score. So what if in this hypothetical remake destroying these dishes unlocks a little bonus? Just little side objectives and optional bonuses that would really help add more replay value.
This could also tie into the worldbuilding and lore- finding little secrets or completing mini objectives that unlock info about the planets, characters, ships, etc. would again add a lot to the overall experieince and give more drive to replay the levels.
Those are just a few little ideas, but obviously this is an open discussion, so what would you add or change to make Starfox 64 to make it better?


By That Ain't Falco

Very open to criticism on this one. I really could have done better. What I won't take criticism about is my particular use of one theory.Just like everyone has their own idea as to what kind of bird Falco is, everyone has a stance on the amputation theory, and I'm not blasting yours.
----------------------------------------------------------------------------------------------------------------------------------------------------------------------------------------------------------------------------------------------------------------------------------------------------
I had been waiting in the reception area for hours. Nobody had gone into the general's office. Nobody had come out. His receptionist had assured me he was in, and I could hear him pacing through the wall. They wanted me gone, and were making it obvious. Three hours hadn't deterred me yet. I would wait another three, if need be. At last, an event that seemed to be too long overdue occurred. The carved, oaken, doors swung open, and the general stepped forward.
"Fox, I'm not entirely sure what you're doing here, but I believe I have a good idea as to why. Good to see you're back to walking, though. That amputation was rough on you."
I sighed.
"It's rough on everyone, sir. Frankly, it's just barbaric. We should be upgrading the technology, not mutilating our own bodies."
"I couldn't agree more. I have scientists working on the issue as we speak."
He paused, accepting that the topic couldn't be delayed forever.
"Sir-"
"Come inside. This is a private matter."
He gestured for me to enter his office. As he followed behind me, he held up a few fingers to the receptionist, who nodded, and flicked a switch on a set of controls I had noticed earlier. Something shifted within the walls. The general shut the door behind himself. His voice was deep, and knowledgable.
"Soundproofing. We are about to discuss information of public importance. Nothing we say leaves this room."
"Understood, sir."
He looked at me for a moment, expectantly.
"Well? Sit down. I ask for brilliant pilots out of the academy, and all they can manage are regulation obsessed... Never mind. They're good pilots, none the less."
I ignored what he said, and sat down.
"I'm here to talk about Andross."
The old war dog sighed.
"I was afraid you'd say that. No matter what you tell me, his sentence can not, and will not, be made more severe."
There was a minute of empty silence as I considered my options.
"Sir, Venom isn't harsh enough. He'll survive. He'll find a way. He'll do this again!"
"Fox, calm down. Genius or not, he is still a man. Venom's atmosphere is so toxic that it corrodes the hull of any craft foolish enough to enter it, shielded or no. Imagine what it would do to the lungs and throat of a living creature. If anything, this is less humane than a laser round to the head."
"He's a scientist, Pepper."
"You aren't the first one who's been to me about this."
"I'd assume not, sir."
"Funny thing, the surname of the previous bearer of complaints was also McCloud."
"I would expect so."
"You're just like your father. Almost dangerously so. Always wanting to push harder, question deeper, see what you aren't supposed to. Thankfully, the pair of you do this all for Cornerian good. Who knows what would have happened if either of you had wound up like O'Donnell, or worse, Andross. I think we'd be out of a planet, if that came to pass."
He laughed, seeming to forget that we were discussing the death of another man.
"Sir, you know that the subject of Andross is a personal one to me."
"To you, maybe. We don't see it as such. He was never convicted, and is considered innocent of that crime."
I felt rage well up inside of me. He couldn't even say her name. I stood up and slammed my fist down onto the desk.
"SHE HAD A NAME, YOU OLD DOG. MY MOTHER HAD A NAME."
He remained calm.
"And yet you can't bring yourself to mention it, either."
"There's no way around it. Dr. Andross murdered my mother in cold blood. You know it. I know it. The whole of Corneria knows it!"
"I strongly advise that you drop this subject, as well as your temper."
"Or what? Andross is a lunatic and a murderer, and he should be treated as such!"
"Or I will see to it that you are expelled from the flight academy."
His words hit me hard. Everything I had worked for could be gone with a snap of his fingers.
"Sir... I-"
"Enough. This conversation is over. If anyone hears a word out of you about Andross that isn't praising his capture and exile, it's done. You're never getting airborne again. I'm advising that you go home, now. Your father has returned from his most recent mission."
"Yes, sir."
Defeated and dejected, I walked out of the room, the general's cold gaze following my every step. Someday, he'd realize just how wrong he was. Someday.


By Arwing_Pilot114

Hello all, Arwing_Pilot114 here. I just wanted to ask the collective of SF-O a question pertaining to a VHS tape I found at a retro game shop today. It's a tape of what appears to have the US Box Art of Starfox64 on it.

I'm going to test it out once I get my hands on a VHS player, but my main question is this: What is this? A commercial recording? Recorded game footage? Is this a promo from Nintendo when the game first came out?

I can't post the picture I took of it since I'm posting this on my phone, but I'm just currious if anyone knew something about this? I also got a VHS with the cover of Donkey Kong Country on it too.

I guess I'll find out what these two VHS tapes are soon!


By Deleted

I've been trying to work out a theory regarding one of the series' (arguably) unresolved mysteries. I won't go into it here so I stay on topic, but if anyone is interested I can go into it in another thread.

If you have any more information (quotes, screenshots, etc.) it would certainly be appreciated. Speculation is fine, but please distinguish between theories and facts, and if possible post links to sources (gameplay videos, images, etc.)


By jeth

Pretty much just what the title says. And I have to admit, this is pretty freaking awesome.