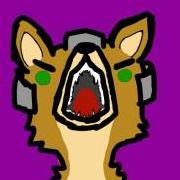 ---
Similar Content

By FantasticMrRobb

Hey all,
Can't say I'm too sure what all would go into a proper introduction, but I'm very happy to be apart of this community and look forward to being a member here.
Being a Star Fox site, I'll go ahead and throw out there that I'm a sucker for the classics; Star Fox 64 is my all time favorite of the series. The only Star Fox game that I haven't played is Star Fox 2, and my least favorite of the series is Star Fox Command. Some of my favorite Star Fox fan music would include Inside of Me, Star Fox Forever, and Star Fox: Space Oddity. I also really enjoy the bits and pieces of Star Fox: The Animated Series (now known as "A Fox in Space") that are available on YouTube.
Some of my hobbies include writing and gaming; I'm a fanatic when it comes to Sonic the Hedgehog. But I also enjoy the Halo series, the Legend of Zelda, Super Smash Bros., and a lot more I can't think of right now because I'm trying too hard.
Any questions I'll be happy to answer. Thank you for letting me be apart of this fantastic community.



By Angel

Hey. I'm Angel and new here though I'm a big Star Fox Fan... 


By RunnerCharm

Hello StarFox Online Community! My name Is Josh and I am a 16 year old High School Freshman. I live in Pennsylvania, and I am a Varsity Cross Country and Track and Field Athlete. I also am extremely social online and IRL. So Excuse me If I start asking stuff like wanting to hang on Skype a lot XD. I am also a huge Fan of Nintendo. I am huge on Mario Zelda Starfox and many others.
 
I am into the Starfox Community because I have my own world with my own characters based of Starfox. Mainly 3 fan kids of Fox and Krystal (OTP).
I am very energetic and a cheerful person so never Ever be afraid to talk to me. I would love to be somebody's new friend and be there to cheer someone up :D.
I am going to try to be active. I will put a schedule on my profile when I am going to have things going on. Mainly things involving School and Friends and events I have in my life.
I hope to make many friends on this site and show people my work. (I do Roleplay a lot when I have time and a huge variety of things.)
 
Some extra thing....I like to video edit and make vlogs and Lets play.....so a lot of things.