11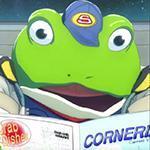 Similar Content

By Hope(N Forever)

Not particularly exciting news for an English-language forum, and not to mention we already had it for months, but I just wanted to inform you that starting from September 29, 2016, Japan finally got the Nintendo DS title Star Fox Command available on the Nintendo eShop as a Wii U Virtual Console title. I guess I just needed an excuse to post this following new Japanese trailer. Check it out: 
 


By Swedguy

Wolf O'Donnell is arguably one of the most mysterious character in the Star Fox Franchise, however there are hints about what backstory the mysterious canine might have.
While Wolf is said to have been 19 years old during Star Fox 64, he appears to have been retconned into being much older than Fox in Star Fox Assault judging by his older sounding and rougher voice in said game. His tone of voice later on was carried over to Super Smash Bros. Brawl and Star Fox Zero, and the StarFox Wiki goes as far as listing him as 38 years old, with Fox being listed as 29.
While Wolf has no Homeworld established, it's safe to assume Wolf may not have originated from Corneria, as both General Pepper and Cornerian soldiers appear to speak with American accents. Additionaly, the Star Fox Zero: The Battle Begins Animated Short suggests that Corneria's native population consists only of cats and dogs.
This has lead to some people speculating that Wolf may have originated from elsewhere in the galaxy, such as Macbeth (Such as the Lylat Legacy fanseries comic, and the fanfiction called Notorious: The Life of Wolf O'Donnell.)
Despite this, the manual for Star Fox Assault states that Wolf has been wanted by the Cornerian army for many years due to crimes such as larnecy and treason.
It is also unclear when Star Wolf was formed. It is stated that Wolf formed Star Wolf when he was hired by Andross, however the Star Fox Wiki claims Star Wolf and Star Fox tangled in battle many times before then, but Wolf's trophy in Super Smash Bros. for Wii U and 3DS suggests that Wolf formed Star Wolf after having served Andross before the latter was exiled to Venom. The Star Fox Wiki claims Wolf met Leon in a bar on Venom after being hired by Andross to form Star Wolf.
Hence, it is difficult to establish when exactly the team was formed, or who he formed it with.
Interestingly, the Star Fox wiki claims Wolf used to be the leader of a gang of Space Pirates, presumably the same ones who fought the Cornerian Army at Sector Z. If this is true, it would explain how Wolf recruited various criminals around the time of Star Fox Assault, who even went as far as call him "Lord O'Donnell".
The Japanese Star Fox 64 guide interestingly refers to Star Wolf as a "band of outcasts manipulated by Pigma." Judging by the Star Fox Assault manual mentioning Wolf being wanted for larnecy and treason, it's safe to assume Wolf does still have some kind of past connection with Corneria. Pigma manipulating Star Wolf is also backed up by Pigma's Smash 4 trophy claiming he convinced Wolf to form Star Wolf, but as previously stated, exactly when is difficult to establish.
Wolf is also said to have a past rivalry with James McCloud in Super Smash Bros. Brawl. This was later confirmed in Star Fox Zero with Wolf saying the following to Fox during their one-on-one battle on Fichina: "I'm impressed! I haven't had this much fun since I fought your father." And an unused Voice Clip has Wolf say the following: "What's wrong? Your father put up more of a fight!"
Wolf is also hinted at having a grudging respect for James and Fox. In Star Fox Assault, Wolf would utter the following words if he shot down Fox: "You ain't your father after all..." Additionaly, Star Fox Command claims that both Fox and Wolf have a grudging respect towards each other.
A user on Gamefaqs has also stated Miyamoto said that Fox and Wolf were friends before Wolf was contacted by Pigma. Wolf is also said to have had a pupil-master relationship with James on the StarFox Wiki.
This makes sense since Fox clearly knows about Star Wolf before they meet each other on Fichina in Star Fox 64 and in Sector Beta in Star Fox Zero. 

Wolf's quotes in Star Fox 64 and Star Fox Zero have also let many fans to believe Wolf had some kind of involvement with the death of James McCloud, where Wolf would say "You'll be seeing your dad soon, Fox!" in SF64 and "You'll be seeing your father soon..." in SF0.

I am aware that the StarFox wiki lacks sources however. If anyone has any information or hints about Wolf and his team, feel free to post in the comments.

(And feel free to move this post if needed.)


By DZComposer

A video surfaced on YouTube of a Fox Vs Wolf dogfight. Not sure what the context of it is, but there are some amazing details from the video. First off, the arrangement of the Star Wolf theme is fantastic. But of more interest, the Wolfen can also transform into a walker. A much better one than the Arwing. It's clearly faster, has stronger weapons, and just looks freaking bad ass.
It looks like a wolf.