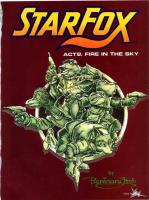 A little announcement on what is going on. 

The Staff of Starfox Online has been restructured. DZ, Steve and Redeemer have all moved on to better and brighter adventures. I personally like to thank DZ and Steve for their years of service and hope their future is as great as the legacy they have left for us today!

The new Administrators are MKGirlism, Sawtooth/Lonewolf, and myself Dr. Orange.
There's a lot in store for the coming year. The goal is to revitalize and better support the Starfox Community 
Stay in tune as a lot of great changes are coming!
 
Edited by Dr. Orange