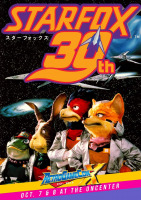 While Nintendo hasn't officially come out with anything to celebrate the 30th anniversary of Starfox, a gaming convention has.
RetroGameCon is celebrating 30 years of Starfox this year with a special exhibit during it's 10th convention in Syracuse NY on October 8th and 9th, 2023.
"ATTENTION: gather your wingmen, fire up your Arwing, and DO A BARREL ROLL! Here's the first (of many) RGC announcements:
Join us on October 7-8 as we celebrate 30 YEARS of STAR FOX at RetroGameCon X! This convention-wide celebration will include a Star Fox competition, panel discussion, trivia, and a special anniversary exhibit.
The exhibit will feature the games of this innovative, thrilling, and sometimes controversial franchise, along with rare artifacts, and a journey through the complicated and unique history of the series.
Plus, a special surprise! If you were around the QBert exhibit on Sunday at the last RGC, you can probably guess what this will be!
Pro tip: it's not too early to start planning your Slippy cosplay!"
I am a volunteer for this convention and I will be in attendance all weekend. So if you want to make the trip to Syracuse in October, feel free. 
I know it's probably not feasible for all of you, but I would love to meet some of our members there.