starfox Gcn Art 11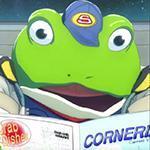 Photo Information for starfox Gcn Art 11
Similar Content

By WayCool64

Since around 2010, I've been developing a fanmade animated series based around the unreleased video game Dinosaur Planet.


 
Most of you guys probably know about Dinosaur Planet and how it transitioned to Star Fox Adventures. If not, Dinosaur Planet was a game that was developed by Rareware and Nintendo and was supposed to be the Nintendo 64's swansong before Rare went on to developing next-gen titles on the Gamecube. The original project was soon rebranded into a Star Fox title after Nintendo saw similarities between DP protagonist Sabre and Star Fox's own Fox McCloud. Dinosaur Planet became a Gamecube title now known as Star Fox Adventures, with many differences besides the setting and cast changes. Nearly 1/2 of DP's original content was cut in the transition, and the new storyline of Starfox Adventures became a plothole ridden mess. Shortly after SFA's release, Rareware was purchased by Microsoft, spelling the end of Rare and Nintendo's partnership to this day.


Despite these events, the story of what would've been Rareware's last and greatest game on Nintendo 64 has not been forgotten. Even after many years, gamers and beta enthusiasts continued to look into the mysteries surrounding Dinosaur Planet and its transition into SFA. Now me and my team are here to pay tribute to one of the greatest lost Nintendo 64 games of all time.
 
The story of Dinosaur Planet follows two characters who must save a planet in peril. Along their journey they face many challenges, such as an evil reptilian tyrant, a destructive dragon, the mysterious Quan Ata Lachu, and many more.


 




We have planned out a total of 13 episodes. We currently have four of the episodes written out, but right now we are in the need of a new head writer, as our previous one had to leave due to unfortunate situations she needed to take care of. We are also in need of more animators. We have about 5 animators so far, but we are still looking for more who are skilled in either traditional or computer animation. The animation we plan for the series will be mostly traditional animation, mixed with minor CG bits used to enhance a few scenes. As for voice actors, we pretty much have most of the entire cast selected, but we are still in need of a few more minor roles.

As of right now, we have no budget for this project since we are trying to work around the copyright issues with Nintendo. Because of this, the work is mainly volunteering until further notice.

Below is an animated clip of the upcoming teaser trailer we plan to release later this Spring.


For more info on the series, visit http://dpfanseries.webs.com


 
If you are interested in joining the team, or if you have any questions, feel free to contact me at: cinerassicproductions@gmail.com, or just shoot me a PM



PS: I wasn't quite sure which section of the forum this topic fitted in since I wanted to include the link to the project's website and some of the rules are a bit confusing for me.