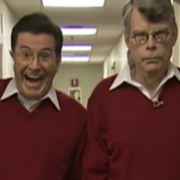 Jazzstep drum-and-bass motherf***er, do you speak it!?
By Rusakov, in Non-Starfox Works

---
Similar Content

By sfw1ngz

Having discovered the CDs with the full osts, has there been any attempt at ripping the full soundtracks with flac/scans? These are super expensive and seemingly hard to get, surely someone musta been frustrated by this...


By The VGM Lover

If you've got any particular genres that I didn't include, sound off with a post!  


By Guest

==[Rules]==
[Updated] You may only post one video per post.  You are allow to post music via YouTube or sound cloud Do not post extended music (Unless the song has a full version)  Have fun. [optional] Add a description/joke under the video/link  Double check YouTube URL link before posting (If the video is part of a playlist delete this in bold text! &list=PL97C4A4CCBB179475&index=2) ===========
So one day on chat me and a friend were constantly threw links to various songs.
Then I had the idea to make a thread about it. Well here you go.
This outta be interesting.


By LoneWolf

Alright, I finished my first playthrough (well, first route through the game, I haven't seen everything yet!) of Zero last night. Holding my opinions back for now (Hint: I loved it), can we talk about how absolutely fantastic the soundtrack is for this game? I really enjoyed almost every track in the game, but some of the standout ones for me were Katt's theme, Sector Alpha, and actually the Mission Complete theme. Nintendo/Platinum did an absolutely wonderful job on this one.