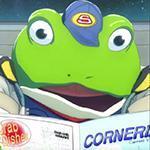 SF-O Member Psy_Commando is working on a Source Engine mod currently called "Project SFR."
The mod borrows from the SNES canon and Itoh Comic in addition to the main N64 canon.
Current plans include the ability to play as a Cornerian soldier.
From the project site:
Description:

The goals of this mod is to recreate the style, and the feel of the first Starfox games on a more modern platform to make it accessible for newer fans of the series, and for old school StarFox fans like me.

I plan to take the best of StarFox 1(snes), 2(snes), and to a certain extent StarFox 64, and tape it all together to create an interesting continuity.

That's more or less what the "R" stands for in the name "Project SFR" or "StarFox Retro".
Multiplayer is a possibility, and you can bet on SF-O hosting at least one SFR server if it happens.
You can visit the project site here: http://www.moddb.com/mods/project-sfr/videos
Also, here is the SF-O forum thread:
Both are good sources to stay up-to-date in this project.